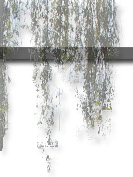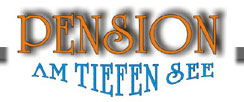 updated :
Pension > About the pension
About the pension - history of the house
We would like to present ourselves with a short discription of the special charming site in its unique historic location.

You find still today the typical elements of the era of neo-renaissance in the façade and the wide space of the compound which was planned in 1896 and built in 1898.

Olmost 100 years later the new owner, Mrs. Anneliese Dalichow renovated the proberty in acordance with the cultural heritage agency. Thus the Guesthouse "Pension Am Tiefen See" was founded. It is embeded between the New Garden with its castle Cecilienhof north and the parc Babelsberg with its castle in the south. Many of our rooms provide a wonderful view at the lake and are very quiet.
In our traditional transformed black-smith rooms close to the waterfront you will find peace and recreation. Apart from the dayly divers breakfast, our black-smith rooms as well servs as an excellent location for celebrations of all kind.

For excursions of the suroundings you can rent bycicles or rowing boats. Our garden yard at the lakefront is ideal for barbecueing and dreaming.

We wish all our guests a enjoying time and recreating hours.

Your guesthouse team